Location
Since 1994 the company is based in Franeker the Netherlands, one of the 11 Frisian cities.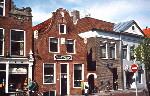 Franeker is known due to a specific Frisian sport, "het kaatsen". During earlier times Franeker was also a university-city, the still remaining professorhauses are a reminder of that times. One of the most famous attractions in Franeker, is the "Planetarium " by mr. Eise Eisenga in the street by his name.

In the centre of the city, to the eastside of the Martinichurch, the office is based. You are able to reach us by means of the route on the routepage. Please call in order to make an appointment, since we are not always in the office.

The office building, as seen on the welcomepage, is in use since 1999.

In order to allow you a glance, some pictures of Franeker are shown on this page.